Come on holiday with us in Tuscany
Rent all the farm up to 20 persons maximum
The Country Farm Podere il Moro is ideal for groups upto 20 people. This old farmhouse has been renovated and divided into 5 independent, self-catering apartments, with all the comforts you need. Apart is a fully fitted professional kitchen and a large covered veranda with outside table and chairs for easy outdoor eating together. The farm is 10km outside of Siena, in the countryside on 150 acres of biological cultivated land. To complete the setting is a newly renovated beautiful swimming pool and an area for children to play safely. In the last years we decided to not rent the apartments singly, but as one complete complex.
Country Farmhouse and Farm
Holiday apartments at Podere il Moro
10km from Siena, less than an hour from Florence, San Gimignano, Montalcino, the Country Farm il Moro is nestled in the Tuscan countryside near Sovicelle, an ideal place to relax, immersed in nature, but near enough to visit the city of art, to go trekking or participate in outdoor sports like golf or horse-riding.
For your stay.
With your own private entrance via a private outside space with garden chairs and table to eat outside. Near to the swimming pool with sun loungers and sun umbrellas.
Biological farm.
Il Moro farm has 150 hectares of biological farming including wheat, olives, medicinal plants, legumes and vegetables.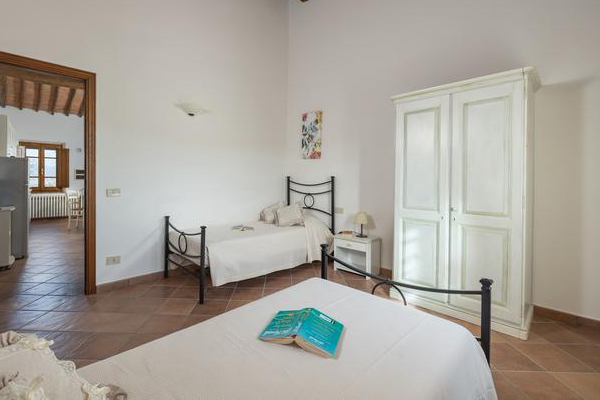 What to do at the country Podere il Moro
Services and activities
for your holiday
In the vicinity of our farm there is the possibility to participate in lots of activities to make your holiday more enjoyable.
Horse riding

At the nearby horse riding school, 'Club Ippico Senese' there are riding lessons for children, either with horses or ponies. The riding school at Murlo, accompanies you and your company on a unique out ride in the local woods of Siena, to experience a non-forgettable moment in nature. For beginners and expert.
Rides of approx. 1 hour for E25.00 + 5.00 insurance, per excursion, upto €100.00 + 5.00 insurance for all the day, excluding lunch.
City trekking

Enjoy walking in the city of Siena and its surrounds, to discover the secrets of our town and lands. If you need a guide, contact us for further information.
Bike tours

You are in Tuscany, one of Italy's regions with the greatest number of cycle paths and 'strade bianche', the old farm dirt roads. Take advantage of it! Contact the Agriturismo staff to organise a customised group bike tour with specialists, who will provide the bikes for hire with an experienced guide. Here are 2 examples, round day tours, that can be arranged, with departure directly from Podere il Moro.

Round trip to Sovicille
Discover the small medieval villages of Stigliano, Ancaiano, Toiano. (Length 35 km, difference in altitude 375 metres, a very simple route suitable for all type of bikes). Discover the route.

Val di Merse and Crete
A route in the municipality of Murlo between two contrasting natural environments: to the west the dense woods of the Val di Merse and to the east the typical hills of the Crete Senesi. (Length 28 km, difference in altitude 570 metres, a route suitable for all type of bikes). Discover the route.

There is the possibility of organising shorter tours on individual trails according to your specific needs. It is also possible to choose an itinerary that does not start from Agriturismo Il Moro. In this case you can arrive at the agreed starting point by your own means or request transport. Rental bikes and a guide will be on site at the group's disposal. There are many itineraries, and some combine beautiful cycling with fine wines and good food. These are some of the proposals:
- E-bike tour in Chianti (with a visit to a typical wine cellar and tasting);
- bike tour in San Gimignano the city of the beautiful towers;
- Montalcino and Brunello bike tour (with a visit to a wine cellar and tasting of three wines);
- e-bike tour in Val d'Orcia (with a visit to a cheese factory in Pienza where pecorino cheese is produced).

Near San Galgano, 30 mins drive from the Agriturismo, you can take guided or self-guided personalised tours in the area of the Abbey of San Galgano (in the heart of the Val di Merse) and a stone's throw from the new bike park, hiring mountain bikes, e-bike or professional bikes from the Val di Merse cycling group.

Information
For info and bookings contact the Agriturismo il Moro staff .
Sport fishing on the lake il Moro

A short distance from us, looking out of the window, we see the beautiful lake il Moro, where it is possible to fish, also at night. The Signora Maria organises night fishing competitions. The cost for a fishing rod is €15.00 for half a day. It is possible at the lake of il Moro to make a BBQ whilst you wait the fish to take the bait.
Petriolo hot springs

The natural thermal springs of Petriolo, known as 'Bagni di Petriolo' is not far from il Moro farm, which is famous for its beneficial sulphurous waters. The Tuscan spring waters of 43 cascade into the Farma River, that is a tributary of the Merse, flowing through the Ombrone Valley. The first thermals complex built in Petriolo dates back to the 15 century and was a popular destination for illustrious personalities of that time. Its strong sulfur smell that emanates is due to the presence of hydrogen sulphide in considerable quantities. The presence of this gas is responsible for the good therapeutic effects on the respiratory system. Petriolo water has been defined as rich in salts, hydrogen sulphide and hydrothermal benefits.

The thermal baths are located along the state road No. 223, which connects Siena to Grosseto, in an area covered with Oaks, Holm Oaks and Strawberry trees (the national tree of Italy).
La Bagnaia Royal Golf Club

The Royal Golf La Bagnaia, bordering on the grounds of Podere Il Moro (less than a kilometre from the farmhouse), offers golf enthusiasts an 18-hole course along 130 hectares of hillsides. This classic and prestigious project was designed by the famous Golf Architect Robert Trent Jones Jr. and it blends to match the surrounding natural landscape. Royal Golf La Bagnaia is the pinnacle of golf in Tuscany and one of the most interesting golf courses in Italy. For those who wish to take lessons to begin or improve their game, there are three practice areas: for the long game, for the short game and for putting, as well as an indoor practice area.

Large driving range with a shooting area of 125 metres (136.70 yards)
Short game area
Putting Green
Tuscan style Clubhouse
Golf Carts
Golf Trolleys
Rental of Clubs

Golf Club La Bagnaia
SPA and relaxation

The Buddha SPA, part of the La Bagnaia complex, is an excellent wellness centre close (approx one kilometre) to Agriturismo il Moro. The SPA, which has been completely renovated and is scheduled to open in spring 2023, offers a sauna, Turkish bath, indoor pool with hydromassage and outdoor pool with a breathtaking view of a 4-metre-high waterfall. Converted from an old barn, the Buddha SPA benefits from the thermal spring of the Fonte di Santa Caterina, which contains the perfect balance of minerals to uplift body and mind and has been known since ancient times when nobles and popes visited the thermal spring for its benefits. At guests' disposal is also a modern fitness centre with Technogym equipment.

Buddha Spa by Clarins
SentierElsa: trekking in Nature

Sentierelsa is one of the most spectacular protected nature trails in Tuscany. It winds along a short stretch of the Elsa River, a tributary of the Arno, in the municipality of Colle Val d'Elsa. A path of about 4kms (with small wooden bridges and small stone crossings on the river), suitable for adults and children, with ponds where it is possible to swim.

Contact the staff of il Moro to organise excursions of groups 15-20 people with an expert guide who will be able to introduce you to the secrets of the Upper Val d'Elsa River Park: from the Diborrato Waterfall (15mtrs high to 10mtrs deep), to Masso Bianco rock, from Gray Herons to Kingfishes. The standard route is about 3 hrs which can be extended to half a day to include the local 'Le Caldane', thermal bath, with warm water springs. Comfortable shoes are required (Gymnastics or hiking shoes).
A look at our farm
Photogallery Podere il Moro
Traditional country farmhouse, renovated into 5 apartments of different sizes, enhancing the original style and architectural elements.
Come on holiday with us
Spend your stay in complete relaxation in our country farm nestled in the Tuscan countryside.